We offer free shipping Worldwide by plane (FedEx or UPS). The price is final – all taxes and import duties are paid by us (excluding: Sweden, Norway, Switzerland, Romania, Malta, Canada, Australia and New Zealand).
All packaging is discreet, there are no labels, markings or logos as seen in the picture below: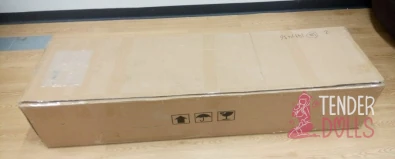 Below you can see the latest shipping timetable to various regions around the world. Keep in mind, that this is only the shipping time. The final delivery time is manufacturing time + shipping time.
United States, Canada 10-14 days
Europe, Russia 25-30 days
United Kingdom 15-25 days
Asia, Australia, New Zealand 7-10 days
Every manufactured doll is thoroughly inspected and tested to ensure high quality before shipping. We always share the doll's photos from the factory with the buyer. Only with customer's approval do we start the shipment process. We offer refunds/replacements if the product is damaged or defective on arrival or if the product is not what you approved.
If the doll arrives and you require a refund, the doll has to be unused. We do not cover the shipping costs of shipping the doll back to the factory. However, we do provide glue, advice, replacement heads, bodies when possible and if the damage is severe.
ORDER CANCELLATIONS
Before placing an order, please make sure you've made up your mind! Customers may cancel their orders within 48 hours of placing it, free of charge. After that period has passed, order cancellations incur a $150 factory restocking fee!